Feel the Nature's Blessings in Our Onsen
Private Hot Spring ~貸切温泉~
We have four different private open-air hot spring - named Burari, Yurari, Kirari, and Fuwari, each name expressing the gentle movement or the sparkling image of the hot spring water. Surrounded by the greenery scene with the scent of the tree leaves, close your eyes and immerse your body deep into the bath. It is a Japanese Zen all for yourself.
? 100% natural hot spring (Gensen Kakenagashi)
? 45 minutes per time per group (2 to 3 people)
? 3300 yen per time
? If you book a dinner inclusive room, you can have a free one-time use (45 minutes) of our private onsen per staying night! Please check our
Promotion
? Please note that advance booking of the time for using our private onsen is available only for guests who book via our official website. Upon booking, please specify in the Special Request box as
"official website booking"
Open-air Foot Bath & Terrace ~足湯処&テラス~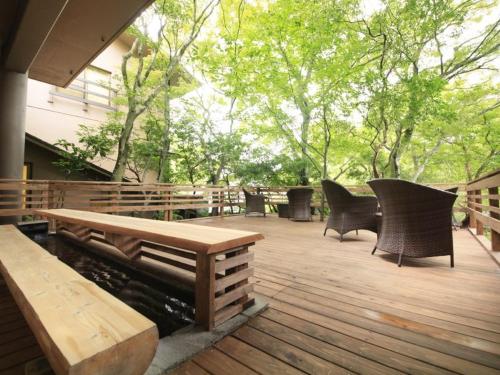 Our open-air foot bath also uses 100% natural hot spring. Overlooking the garden, breath in the colour of the season while having your feet dipped in the bath! After you feel the cleansing effect on your feet, why not enjoy our free coffee and tea and relax at the terrace?
? Open Hours
15:00 to 23:00 / 06:00 to 10:00
*open hours are subject to the weather and season.
Indoor Public Bath ~大浴場~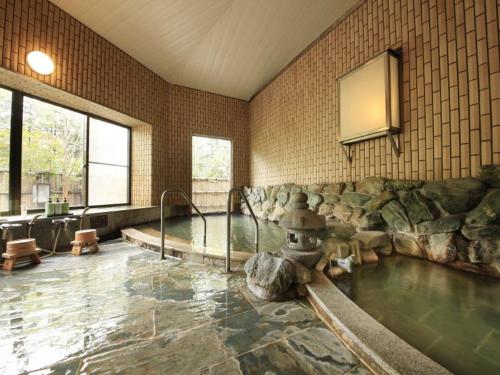 We boast the abundant effects of our public bath! You can enjoy the hot spring water that are pulled from two different sources. Our public bath has high moisturizing and sterilization effect, along with its ability to sustain the warm temperature by itself. Because of these many effects, our hot spring is also called the hot spring for beauty (美人の湯, Bijin No Yu).
■ Amenities
Shampoo, Conditioner, Body Soap, Shower Cap, Hair Brush, Razor Blade, Makeup Cleanser, Skin Toner, Hair Dryer etc.
※※※ Important Information ※※※
Guests with tattoos may not be permitted to use our public bathing areas or other facilities where the tattoos might be visible to other guests.